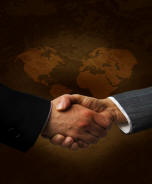 Urbanwood is comprised of the husband-and-wife team of Chuck Krumrie and Susan Wood. Together, we bring over 30 years experience in property management and real estate sales to the table.

Incorporated in 2005, Urbanwood is a full service real estate brokerage, licensed in the state of Minnesota.

We specialize in the management of smaller common interest communities and in the sale of homeowner association properties. We are thoroughly versed in the unique advantages and special challenges of association living. We believe that the single-most important aspect of a productive and satisfying relationship with our clients is communication: the desire and ability to listen, empathize and provide appropriate counsel.

Chuck and Susan are proud and dedicated members of the Community Associations Institute (CAI). Chuck is also a licensed real estate broker and Realtor® who is a member of the National Association of Realtors® (NAR).

Being members of these organizations means subscribing to each of their Codes of Ethics:

At Urbanwood we also take your privacy seriously! Please click this link to see our privacy statement.
(Documents are in Adobe PDF format. Adobe Reader is required to read them.)